Montana INBRE Summer Undergraduate Research Program
Montana INBRE Undergraduate Student Research Program | Summer 2020 | May 20 - July 29 | Bozeman, Montana
Applications for the 2020 Summer Research Program are due Sunday, February 23, 2020. Details below.
MSU Bozeman-based mentors & students should be aware that application instructions have changed from years past. Students enrolled at MSU-Bozeman should now follow the two-step application process detailed below.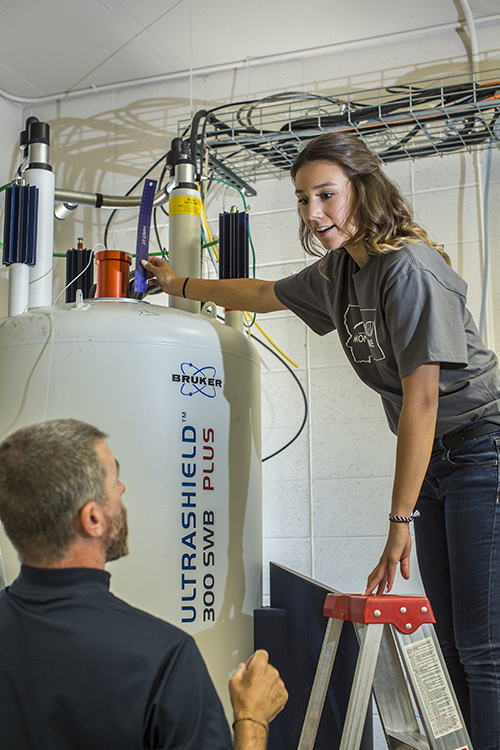 Are you interested in pursuing a career in which you can contribute to advances in the biomedical sciences and/or human health?
Are you currently enrolled in a program of study that is supporting your intended career path?
Would you like to get or stay involved in research related to the biomedical sciences, including research in health disparities, environmental health, and/or food security?
Are you currently enrolled at a college or university in Montana, Alaska, Hawaii, Idaho, Nevada, New Mexico, or Wyoming and in good academic standing?
If the answer is "yes" to all four questions, then consider preparing a proposal for Montana INBRE funding. Students studying in fields as diverse as the social sciences, veterinary sciences, natural sciences and engineering are preparing themselves for careers that can contribute to biomedical research advances and are eligible for this program.
What is the Award Amount?
$4,600
Travel and accommodations are paid by the student
MT INBRE can assist in arranging dormitory accommodations if requested
Who is Eligible?
To be considered for this program you must:
Be enrolled at an institution in one of the seven IDeA Program Western Region states (Alaska, Hawaii, Idaho, Montana, Nevada, New Mexico, Wyoming) during spring semester directly preceding the summer term
Be enrolled as a sophomore, junior, or senior in good academic standing during current summer term (> 6 credits) or upcoming fall semester (> 12 credits)
Be a US citizen or authorized to work in the United States
Which Possible Areas of Research Exist?
Cell Biology and Neuroscience
Biochemistry
Biomedical Engineering (Biological, Chemical, Electrical or Mechanical)
Psychology
Computational Biology (math, computer science)
Microbiology and Immunology
Nursing
Human Health and Development
What will be expected from me?
400 Hours spent committed to your project during the 10-week program
A poster presentation made at the Summer Poster Session (Date TBD)
Participation in INBRE events that will support your success in a career in biomedical research, including professional development and outreach activities
What should I do before I apply?
Talk to your faculty advisor and/or other faculty mentors about your interests
Identify a faculty member in any department who is willing to mentor and support you for a biomedical research-related project
Decide on a research direction that interests you and that your faculty mentor is willing to supervise
Prepare an application and submit by following the process described below
Keep in mind: We can help! Don't hesitate to contact us if you are having trouble identifying a faculty sponsor.
Application Process for Students Enrolled at MSU-Bozeman
Step 1:
All research applications for MSU-Bozeman students are processed initally through the Undergraduate Scholars Program (USP). Click on the button to the right to begin your application. USP provides guidelines for completing the online application.
Step 2:
Once you have completed your USP application, please let Montana INBRE know that you would like for your USP application to be considered for supplemental funding from the Montana INBRE summer program.
Notes:
MSU nursing students attending classes at one of MSU's three off-campus locations (Missoula, Great Falls, Kalispell) are considered enrolled at MSU and should use the above (MSU) application portal
A $1000 match is required from student mentors; mentors can contact Sarah Codd or Cori Huttinga for clarification (AIRO-eligible students exempt from match)
Application Process for All Other Eligible Students
If you are a student enrolled at a Montana college or university (besides MSU-Bozeman) or if you are a student who attends a college or university located in another IDeA Program Western Region state (Alaska, Hawaii, Idaho, Nevada, New Mexico, or Wyoming), please use following instructions:
Email Cori Huttinga to request a visiting student application form
Complete application form and return to Montana INBRE along with:


Two letters of recommendation: at least one from a current or former professor
An official or unofficial copy of transcripts for all relevant college-level coursework
Notes:
In accordance with MSU policy, external hiring of non-MSU students may be conditional upon successful completion of a pre-employment background check
MSU nursing students attending classes at one of MSU's three off-campus locations (Missoula, Great Falls, Kalispell) are considered enrolled at MSU and should follow the application instructions for MSU students
Deadline
Applications for the summer program are due February 23, 2020.
Contact
If you have questions regarding the undergraduate research program please contact:
Dr. Sarah Codd
Director of MT INBRE Student Programs
Tel: 406-994-1944
Email: scodd@montana.edu
Cori Huttinga
Program Specialist and Finance Manager in the MT INBRE Office
Tel: 406-994-7531
Email: chuttinga@montana.edu