"Café Scientifique tries to take science away from the bum-numbing chairs of the classroom and into big, fluffy sofas . . . It tries to play a role in promoting public engagement in science, making it accountable, because science is no longer for the scientist alone."

Cambridge University Varsity Magazine
Upcoming Cafés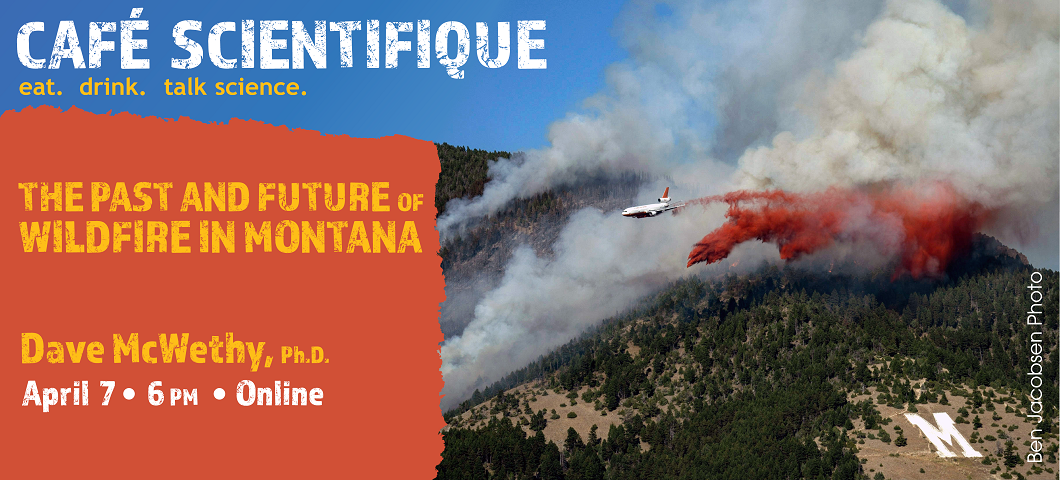 Up Next, Café Scientifique goes Virtual: MSU's Dave McWethy will present, "THE PAST AND FUTURE OF WILDFIRE IN MONTANA: How Changes in Climate, Fuels and Human Activity are Driving Longer, More Destructive Fire Seasons" on April. 7 at 6 p.m. online.

Login at 6pm on April 7: https://us06web.zoom.us/j/83569573546

News Release: https://www.montana.edu/news/20982/msu-s-mcwethy-to-discuss-montana-s-changing-wildfire-patterns-at-caf-scientifique-on-april-7
Up Next in Butte: Check back soon!

Started in England in 1998, Café Scientifique is based on the French Café Philosophique and has recently spread to a handful of locations in the U.S. Community members come together in a friendly locale after work and hear a short talk on an interesting current scientific topic. Following the presentation, there is time for questions, answers and lively discussion.
In Bozeman, Café talks typically take place on selected evenings from 6:00 p.m. to 7:30 p.m. at the Baxter Hotel Ballroom in Bozeman. These events are free and everyone is welcome. Hors d'oeuvres are provided and drinks are available for purchase.
MT INBRE also supports Café talks at Montana Tech in Butte as part of the University's Public Lecture Series. Learn more >>>
Café Scientifique is co-sponsored by the MT INBRE and the Montana COBRE programs at MSU.
Learn More about other Café sites around North America and the rest of the world.
Cori Huttinga
INBRE Program Specialist and Fiscal Manager
Tel: 406-994-7531
Email: chuttinga@montana.edu
Get the latest Café news as it becomes available.
Use the same link to be removed from our mailing list by indicating "Remove from Café list" in the message box.